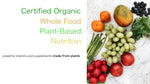 Modern Organics is on the leading edge of what's next. We stay ahead of the natural health and wellness trend and offer some of the highest quality products in the vitamin and supplement industry.
Our whole food sourced vitamins are made from organic fruits, vegetables and herbs your body can digest and absorb. 
We only use all natural ingredients in our vitamins, NEVER anything synthetic.